Álbum: ELO Ballads
Original de: 2021
Discografica: Sony
Edición: 2021
Remastered: SI
Formato: mp3
Año de formación: 1971
Origen: Gran Bretaña
01. Mr. Radio
02. Eldorado
03. Can't Get It Out of My Head (2012 Version)
04. Mister Kingdom
05. Strange Magic (2012 Version)
06. One Summer Dream
07. Telephone Line (2012 Version)
08. Shangri-La
09. Steppin' Out
10. Big Wheels
11. Need Her Love
12. Midnight Blue
13. Rain Is Falling
14. Ticket to the Moon
15. Take Me On and On
16. Getting to the Point
17. Moment In Paradise
18. A Long Time Gone
19. When I Was a Boy
20. Losing You
Autor:
Rafa
Categoría:
2018 & Jeff Lynne - Original Album Classics
Etiquetas:
1971
,
2018 & Jeff Lynne - Original Album Classics
,
5 CD
,
5CD
,
Electric Light Orchestra - ELO
,
Gran Bretaña
,
Grupo
,
Intérprete
,
mp3
,
Quintuple
,
Remastered
,
Sony
Comentarios:
0
Álbum: & Jeff Lynne – Original Album Classics
Original de: 2018
Discografica: Sony
Edición: 2018
Remastered:
Formato: mp3 – 5CD
Año de formación: 1971
Origen: Gran Bretaña
DISC 1 – Jeff Lynne – Armchair Theatre (1990)

01. Every Little Thing
02. Don't Let Go
03. Lift Me Up
04. Nobody Home
05. September Song
06. Now You're Gone
07. Don't Say Goodbye
08. What Would It Take
09. Stormy Weather
10. Blown Away
11. Save Me Now
DISC 2 – Electric Light Orchestra – Zoom (2001)

01. Alright
02. Moment In Paradise
03. State Of Mind
04. Just For Love
05. Stranger On A Quiet Street
06. In My Own Time
07. Easy Money
08. It Really Doesn't Matter
09. Ordinary Dream
10. A Long Time Gone
11. Melting In The Sun
12. All She Wanted
13. Lonesome Lullaby
DISC 3 – Jeff Lynne – Long Wave (2012)

01. She
02. If I Loved You
03. So Sad
04. Mercy, Mercy
05. Running Scared
06. Bewitched, Bothered And Bewildered
07. Smile
08. At Last
09. Love Is A Many Splendored Thing
10. Let It Rock
11. Beyond The Sea

DISC 4 – Electric Light Orchestra – Mr. Blue Sky: The Very Best Of Electric Light Orchestra (2012)

01. Mr. Blue Sky
02. Evil Woman
03. Strange Magic
04. Don't Bring Me Down
05. Turn To Stone
06. Showdown
07. Telephone Line
08. Livin' Thing
09. Do Ya
10. Can't Get It Out Of My Head
11. 10538 Overture (40th Anniversary)
12. Point Of No Return
DISC 5 – Electric Light Orchestra – Live (2013)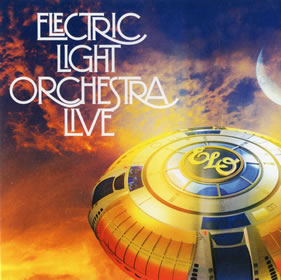 01. Evil Woman
02. Showdown
03. Secret Messages
04. Livin' Thing
05. Sweet Talkin' Woman
06. Mr. Blue Sky
07. Can't Get It Out of My Head
08. Twilight
09. Confusion
10. Don't Bring Me Down
11. Roll Over Beethoven
Electric Light Orchestra (ELO) es un grupo inglés de rock progresivo natural de Birmingham (Inglaterra) y liderada por el músico Jeff Lynne. La ELO se formó para dar cabida al deseo de Lynne y de Roy Wood de crear canciones de rock modernas con tintes clásicos.
Leer más ...
Después de la salida de Wood, tras el lanzamiento del álbum debut, Lynne se convirtió en el líder del grupo y compuso, arregló y produjo todas las canciones y trabajos de la formación. Entre 1971 y 1986, durante su época de mayor actividad, el grupo publicó once álbumes y obtuvo una notable popularidad con trabajos como A New World Record, Out of the Blue y Discovery.
A pesar del éxito de sus primeros sencillos en el Reino Unido, el grupo obtuvo una mayor popularidad en los Estados Unidos, donde se convirtieron en una de las bandas con mayores ventas de la industria musical. Entre 1972 y 1986, y a pesar de no obtener ningún número uno, la Electric Light Orchestra acumuló un total de quince sencillos top 10 en el Reino Unido y siete en los Estados Unidos, y mantiene el récord de éxitos en el top 40 de la historia de Billboard sin haber cosechado un número uno.? Además, ha obtenido 38 premios de la British Phonographic Industry (BPI), veintiuno de la RIAA y diecinueve de la CRIA,? y ha vendido más de cincuenta millones de copias a nivel mundial.
Tras su separación en 1986, Lynne volvió a reformar la Electric Light Orchestra en dos ocasiones: en 2001, con la publicación de Zoom, y en 2015, bajo el nombre de Jeff Lynne's ELO, para el lanzamiento de Alone in the Universe.
A finales de la década de 1960, Roy Wood, guitarrista, vocalista y compositor de The Move, tuvo la idea de formar un nuevo grupo que usase violines, cellos, e instrumentos de vientos para dar a su música un sonido clásico, llevando el rock en la dirección de «recoger el testigo que dejaron The Beatles». Jeff Lynne, líder del grupo The Idle Race, se sintió atraído por la idea de Wood. En enero de 1970, cuando Carl Wayne abandonó The Move, Lynne aceptó la invitación de Wood de unirse al grupo con la condición de que centrase su energía en el nuevo proyecto. El 12 de julio de 1970, Wood y Lynne grabaron la primera canción de la Electric Light Orchestra, «10538 Overture», compuesta por Lynne, a la que añadieron varias pistas de violonchelo. El álbum resultante, The Electric Light Orchestra, fue publicado en 1971 en el Reino Unido.
El primer concierto de la ELO tuvo lugar el 16 de abril de 1972 en el Greyhound Pub de Surrey e incluyó la participación de los violonchelistas Mike Edwards y Hugh McDowell, del bajista Richard Tandy y del violinista Wilfred Gibson. Sin embargo, esta formación no duró mucho tiempo: Craig abandonó el grupo y al poco tiempo Wood y Lynne comenzaron a sufrir tensiones debido a problemas con el representante y con una gira insatisfactoria por Italia, donde los instrumentos de cuerda no podían escucharse. Debido a ello, Wood, Hunt y McDowell abandonaron el grupo durante las sesiones del segundo álbum y fundaron Wizzard. A pesar de las predicciones de la prensa musical de que el grupo no funcionaría sin Wood, al haber sido la fuerza impulsora en su creación, Lynne comenzó a dirigir el grupo, al cual añadió al bajista Mike de Albuquerque y al violonchelista Colin Walker.
La nueva formación de la ELO debutó en el Reading Festival de 1972, donde el uso de pick-ups en los instrumentos de cuerda permitió darles una amplificación apropiada en el escenario. En febrero de 1973, el grupo publicó ELO 2, su segundo álbum, que incluyó una versión del tema de Chuck Berry «Roll Over Beethoven». Durante la grabación de su siguiente álbum, Gibson y Walker abandonaron el grupo y fueron reemplazados por el violinista Mik Kaminski, mientras que las partes de violonchelo fueron en adelante interpretadas por Edwards. El álbum resultante, On the Third Day, fue publicado a finales de 1973 e incluyó el sencilo «Showdown». McDowell, que había dejado el grupo el año anterior, volvió a unirse durante la gira de promoción en los Estados Unidos.
Para Eldorado, A Symphony, un álbum conceptual sobre un soñador, Jeff Lynne dejó de sobregrabar varias pistas de instrumentos de cuerda y en su lugar contrató a una orquesta entera, con Louis Clark como arreglista.? El primer sencillo, «Can't Get It Out of My Head», fue el primer top 10 del grupo en los Estados Unidos, mientras que Eldorado se convirtió en el primer trabajo del grupo certificado como disco de oro. Durante la grabación de Eldorado, De Albuquerque abandonó el grupo para pasar más tiempo con su familia, por lo que las partes de bajo fueron tocadas por el propio Lynne. Tras su publicación, Lynne contrató a Kelly Groucutt como bajista y reemplazó al violonchelista Mike Edwards por Melvyn Gale. La formación se estabilizó a medida que la banda alcanzó un sonido más accesible y se consolidaba como una atracción en el circuito de estadios y de arenas en los Estados Unidos. Además, apareció en cuatro ocasiones en el programa de televisión The Midnight Special entre 1973 y 1977, más que cualquier otro grupo en la historia de la serie. Entre tanto, el grupo publicó Face the Music en 1975, que incluyó los sencillos «Evil Woman» y «Strange Magic», y cuyo tema instrumental de apertura, «Fire on High», fue usado como música de fondo en varios montajes de CBS Sports. El grupo respaldó el lanzamiento de Face the Music con una gira por los Estados Unidos entre febrero y abril de 1976, tocando un total de 68 conciertos.
El sexto álbum, A New World Record, fue el primer top 10 del grupo en el Reino Unido tras su lanzamiento en 1976.? A New World Record fue certificado disco de platino por la RIAA e incluyó los sencillos «Livin' Thing», «Telephone Line», «Rockaria!» y «Do Ya», una regrabación de un tema de The Move. El álbum fue acompañado de una gira estadounidense entre octubre de 1976 y abril de 1977, con un descanso en diciembre en el que tocaron en los American Music Award. A New World Record fue seguido por Out of the Blue, un álbum doble que llegó al puesto cuatro en las listas de éxitos británica y estadounidense y que incluyó los sencillos «Sweet Talkin' Woman», «Mr. Blue Sky» y «Wild West Hero», todos ellos top 10 en el Reino Unido. El nuevo álbum fue seguido de una gira de nueve meses con 92 conciertos, con una costosa puesta en escena que incluyó máquinas de humo y una pantalla láser. En los Estados Unidos, la gira fue etiquetada como The Big Night y fue la más exitosa del grupo, con una asistencia de 80 000 personas en el Cleveland Stadium, así como la de mayor recaudación de la historia de la música hasta ese momento.? El grupo tocó en el Wembley Arena de Londres durante ocho noches seguidas, con todas las entradas vendidas. El primero de los conciertos del Wembley Arena fue grabado y televisado, y posteriormente publicado como CD y DVD.
Algunas Grabaciones de Electric Light Orchestra